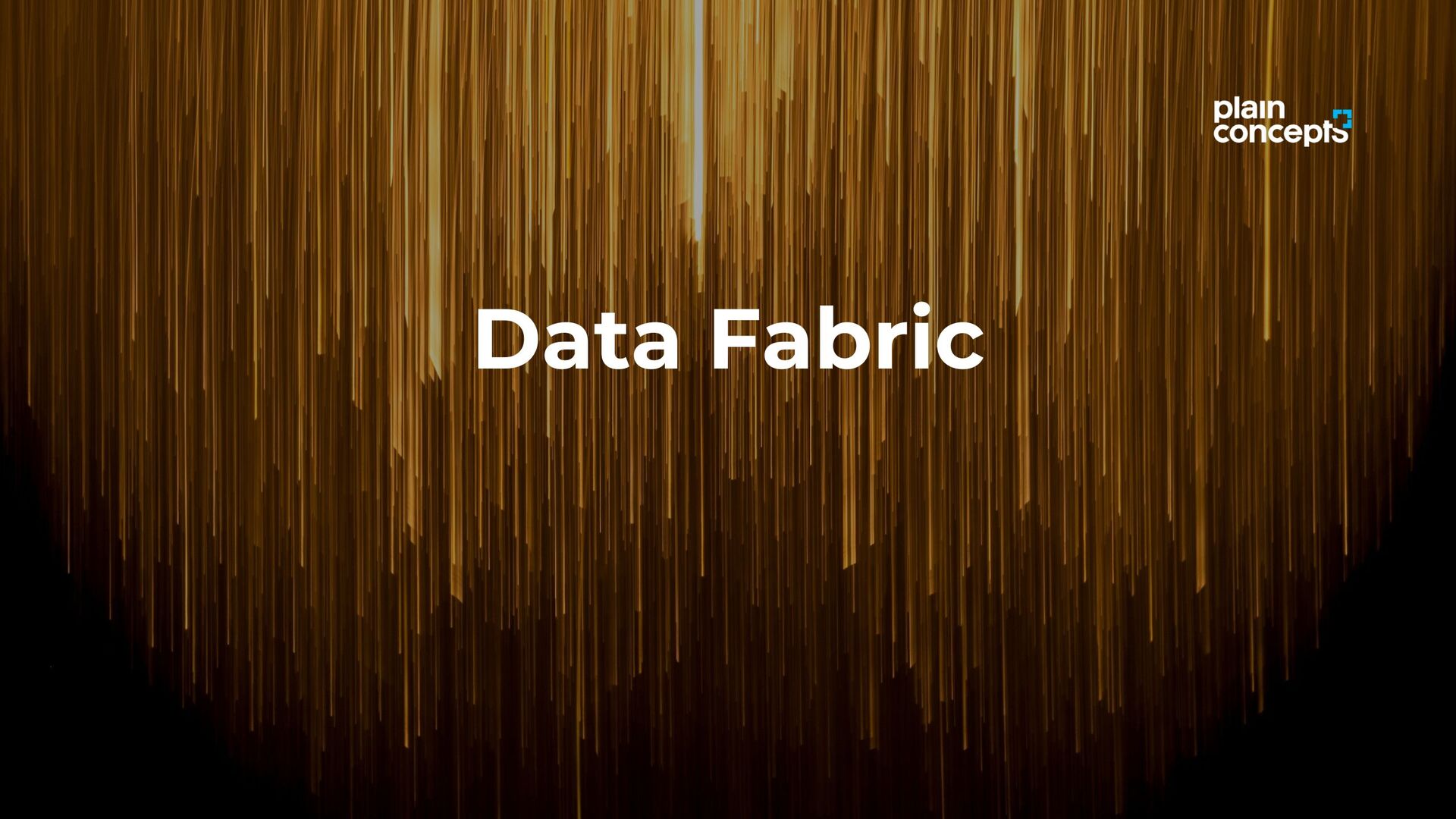 Data Fabric: Building a solid database
Today, companies have to manage exorbitant volumes of data that are growing daily, come from different sources and are structured differently. At the same time, users are demanding faster access to data and easier and more reliable access.
According to a Gartner study, 74% of organizations actively seek new information automation tools for their business. The consultancy already predicted that the data fabric market would be one of the most important trends to watch over the next few years. We analyze what it is, its advantages, and what it can bring to your business.
What is Data Fabric?
The concept of data fabric refers to an architecture of services and functionalities that helps to better process data volumes from many sources.
It has the ability to bring them together under a single management system or cloud, making it easier for organizations to manage all this data in a simpler and more agile way in a unified space that allows frictionless access and exchange of information.
Thanks to this architecture, information is processed, managed, and stored in real-time as it flows through the data network. It connects internal and external applications to be able to access or share data for advanced analytics with numerous functions such as new product development, sales and marketing optimization, and predicting risk situations.
Data Fabric Architecture
This structure simplifies complex data and delivers meaningful data to each consumer of that data, leverages the benefits and its value, much more so than traditional structures, as it keeps the business logic and context of the data application intact.
It eliminates the need to recreate all the business context that is lost when extracting and replicating data, giving trading parties and consumers the ability to accelerate their decision-making with confidence, knowing they have the full picture of their data.
This architecture connects, manages, and governs data across different systems and applications to provide a centralized and unified view. As such, a data fabric is made up of multiple layers that work together to meet needs such as:
Data management
Data ingestion and data flow
Data processing and persistence
Data orchestration
Data discovery
Global data access
Modelling and semantic layer
It ensures that data is organized, secure, and of high quality. This includes data integration, data governance, and data security. In addition, it can be used to automate various areas of the business and ensure that data is managed efficiently and consistently.
Its main benefits include:
Centralized and simplified data management
Fast and accurate information
Reliable source of information in a single view
Automated data management to detect trends and issues and minimize errors
Adaptability and scalability
Better control of data, such as quality checks, tracking, and data protection
Data Fabric Use Cases
In addition to the many benefits offered by Data Fabric, there are specific use cases such as customer care, fraud detection, sales forecasting, human resources agility, compliance, and regulation… We analyze them in more depth.
Customer Services
Every day, customer data comes in massively and from different sources (CRM, social networks, reviews, web…). Trying to categorize and analyze them manually is tedious and practically impossible.
A data fabric structure allows you to control this constant influx of information, helping you to define and establish the analytical parameters necessary to categorize or compare the specific data you want to focus on.
And as mentioned above, it can be easily automated to search for different data sets and ensure that they provide valuable information to customers.

Fraud Detection
Cybercrime and cyber attacks are a major cause of millions in losses for businesses worldwide. With a data fabric, you can examine the entire business landscape to detect threats and risk behaviors before they become problematic.
Data from multiple systems and sources can be analyzed, including transactions, customer feedback, expense reports, etc. In fact, AI and ML algorithms can be used to detect and identify patterns and anomalies in large data sets that humans cannot detect.
Sales Forecast
It also improves sales forecasting by allowing companies to integrate and analyze data from external and internal sources in real-time. This helps create a holistic view of the company's sales data, which is tremendously useful for accurate and reliable forecasting.
This allows companies to allocate resources better, prepare for peaks and troughs, and better serve customers.
Medical Care
Data fabric solutions help create a centralized, real-time view of patient data. A more complete view of the medical record is achieved, helping to make more accurate diagnoses and treatment plans.
You can also improve the efficiency of clinical trials by integrating data from multiple sources into a single location, facilitating easier tracking and analysis.

Process Improvement in Manufacturing
Construction and industry are among the sectors with the highest number of generation points. Many companies have already introduced data-tracking solutions to meet the demands for transparency and traceability in their production processes.
An end-to-end view of their supply chains lets them detect bottlenecks early and anticipate potential problems. Also very useful are IoT sensors, which give them information about which assets need maintenance, thus avoiding costly downtime.
On the other hand, it is tremendously useful in analyzing market data and being aware of current and upcoming trends to be able to communicate possible changes in the shortest possible time.
Microsoft Fabric Data Analytics
Microsoft Fabric is a SaaS analytics solution that could be called an "all-in-one" solution, covering everything from data movement to data science, Real-Time Analytics, and business intelligence.
It offers a complete set of services, such as Power BI, Azure Synapse, and Azure Data Factory, in a single integrated environment.
It redesigns how members access, manage, and act on data and findings by connecting every data source and analytics service, all in a single AI-based platform.
If you want to know more, don't miss the talk given during dotNET 2023 by Ignacio Melero and Isabel Delgado, Cloud Solution Architects at Microsoft, about the future of data through Microsoft Fabric.
Data Fabric Services
Finding the right data sets and making them available for analytics is often a convoluted process that further slows down business decisions. This is compounded by regulatory compliance and security controls that must be manually applied at every step of the data lifecycle, from ingestion to analytics applications.
Data Fabric has emerged as a modern data architecture that helps overcome all these challenges and meets the needs of a hybrid, multi-cloud environment.
It helps you have enterprise data available wherever it is, improves collaboration, and enables self-service and automation to simplify data management and enforce compliance and security requirements.
At Plain Concepts, we propose a data strategy where you can get value and get the most out of your data.
We help you to discover how to get value from your data, control and analyze all your data sources, and use data to make smart decisions and accelerate your business.:
Data analytics and strategy assessment: We assess data technology for architecture synthesis and implementation planning.
Modern analytics and data warehouse assessment: We provide a clear view of the modern data warehousing model through understanding best practices for preparing data for analysis.
Exploratory data analysis assessment: We look at the data before making assumptions to give you a better understanding of the available datasets.
Digital Twin and Smart Factory Accelerator: We create a framework to deliver integrated digital twin manufacturing and supply chain solutions in the cloud.
We accompany you on your journey to become a data-driven business – contact us!