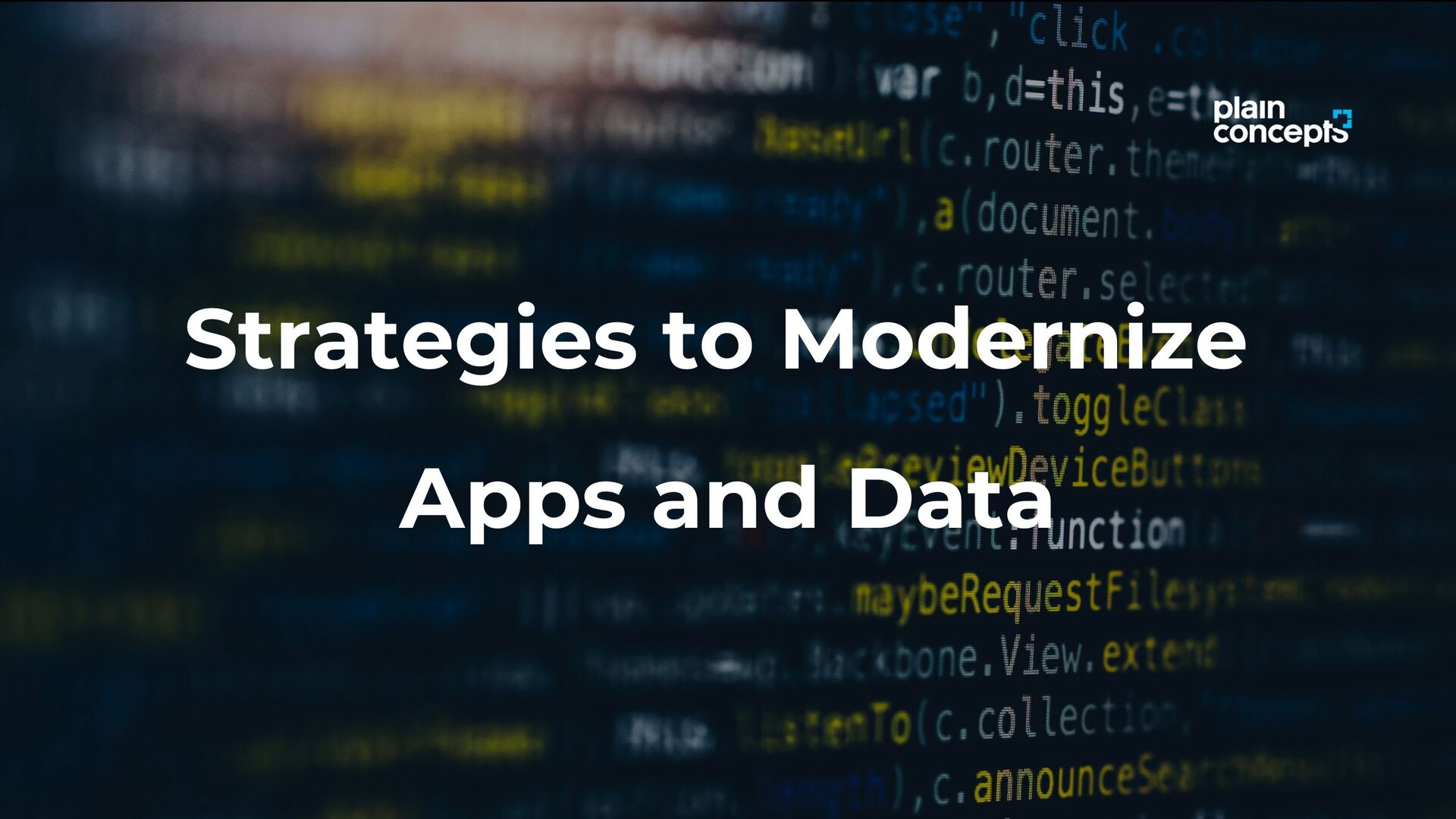 Strategies for Modernizing your Business Apps and Data
The attractiveness of the cloud has made it the platform of choice for enterprise applications to run on and the best aid to process innovation.
Modern applications enable organizations to unlock legacy applications' information and business value while reducing costs, future-proofing infrastructure, and improving agility.
They help dramatically shorten the time from new ideas to secure the launch of new business initiatives, enabling rapid deployment of new points of differentiation in customer service, data access, and customer insight. Are you ready to take your business to the next level and maximize your ROI?
What is application modernization?
We can define it as the process of upgrading applications and data to a cloud-centric model that fits the needs of each business.
It is the transition of an organization's applications, processes, and data management to a cloud approach that aims to boost organizational and technological performance, improve the quality of customer and employee experiences, and accelerate time to market for new offerings and upgrades.
What are the benefits of application modernization?
Instead of starting from scratch by creating new applications, existing applications can be modernized with many benefits:
Accelerated innovation and time to market: By not spending as much time and resources maintaining applications and infrastructure, businesses can focus on innovation through simplified processes and faster time to market.
Security and reliability: Enterprises can use integrated update and security capabilities to help protect their workloads. Tasks can also be automated, backed up, and performance monitored…
Compatibility and agility: One of the great benefits of modernizing applications is that they can continue to work as technology evolves. This agility in the face of change drives the speed of upgrades to meet current and future business needs.
Efficiency: When time is short, businesses can build on existing applications rather than invest in new ones that need to be developed from scratch. It also helps to preserve many current processes and maintain business continuity.
Strategies and steps for Application Modernization
There are numerous strategies for modernizing enterprise applications, but the main ones are cloud migration, mainframe modernization, data and middleware modernization, and cloud-native development.
Modernization of Applications
When moving an application to a modern platform, organizations can modernize it to take full advantage of real-time data and integrate it through open APIs or Agile development practices.
Your company can choose to redesign existing applications to fit a modern open-source environment or completely rebuild them natively in the cloud.
Depending on the scope and complexity of legacy applications, sometimes re-architecting may be better, while more basic applications that integrate with multiple business areas may be better off rewritten from scratch.
Any modernization effort must be supported by working methods that increase speed and drive process efficiency. Agile teams continuously iterate development and testing, breaking the product into small parts and integrating them for final testing.
DevOps promotes collaboration between development, operations, and security teams using automated tools that rapidly deploy code to production.
Cloud Migration
Application migration is key to increasing business agility, but it is also a challenge for many enterprises, especially larger ones, that find their application portfolios difficult to scale.
By migrating and modernizing these applications at scale, including core business systems, organizations benefit from an industrialized approach through a methodology that accelerates and standardizes migration and transformation. It would be like an assembly line in a factory: each application moves through specific steps on its way to the cloud. These steps include:
Discover and assess application readiness
Plan and prepare the application for the cloud
Decide on the appropriate modernisation methodology
Identify the best cloud platform
Test and validate the application before deployment
Modernizing databases and Middleware
Another fundamental change is to replace outdated infrastructure, middleware, and databases with open-source alternatives. Modernizing databases to an open source, cloud-ready, or as-a-service platform is especially critical, as current trends such as e-commerce, IoT, and mobility are driving a huge net increase in the amount of data that needs to be processed.
Businesses can build intelligent applications on a database that can scale quickly thanks to innovative tools and pre-built analytics, AI, and machine learning services.
In addition, old databases can have security vulnerabilities and be targeted by cybercriminals. By modernizing these databases, these data breaches can be prevented as well as being able to continuously monitor them, perform regular audits, archive and encrypt stored data, etc.
Cloud-native development and Containerization
As cloud-native applications make up the majority of new development, legacy systems will be phased out. Native development can help reduce infrastructure costs, ensure higher utilization, and align IT spending with business demands.
In fact, native development helps to get the most out of cloud infrastructure. Standardized and scalable processes provide all the hardware and services needed to avoid service disruption and drive high levels of automation.
Through containerization, which breaks down applications into smaller code units, they can be up and running in seconds. The application can be developed in a container, packaged, tested, and deployed to production without additional testing.
Container-based applications have open APIs that can run on private clouds, public clouds, or Platform-as-a-Service. A single platform supports development, management, patching, monitoring, performance reporting, and backup and recovery.

Why do companies need Application Modernization?
Most IT organizations are already migrating their applications, implementing Agile DevOps methodologies, adopting cloud-based software-as-a-service (SaaS) applications, and recognizing the importance of securing applications and the underlying data.
Moving applications to the cloud has revitalized interest in IT modernization, and organizations are looking to apply the tools, approaches, and knowledge to all of their application initiatives.
Enterprises can derive value from their investments through highly efficient methodologies and tools for application modernization and migration, application development, or application security.
As mentioned above, they bring a number of benefits, such as business agility, faster application delivery time, and lower costs. At Plain Concepts, we can help you achieve all of these benefits, enabling you to more easily access data and gain new insights to create more personalized connections with customers, employees, and partners.
We offer you strategies to accelerate the leap to the cloud; we design a multi-cloud architecture and migration of IT systems to the cloud and modernize, automate, and protect your systems.
To do this, we provide you with:
Application and database modernization assessment: Our architects will analyze your applications and architecture to ensure they meet your business requirements while taking advantage of the cloud.
Identity, Governance, and Security Assessment: Access an in-depth assessment of identity and access management with a full gap analysis of access security in hybrid environments.
Data Protection, Privacy, and Compliance Assessment: Ensure data compliance and gain control of information by protecting trade secrets or highly sensitive information.
In addition, we also specialize in enterprise application development, be it with external or hybrid team collaboration models, LoB application modernization assessment, or DevOps assessment.
Some of our success stories are:
Madrid te acompaña, an app developed for the Madrid City Council that brings together the elderly and volunteers through an app adapted to their needs and easy to use. It has meant a before and after in volunteering actions, as connecting all parties in a simple, controlled, fluid, and adapted-to-digital era is now possible.
Valora View is an augmented reality app developed for BBVA Bank that helps people make more informed decisions about buying or renting a property, saving them time, money, and stress.
Cashlogy App lets you control your business cash from your mobile in real-time. Developed for the Azkoyen Group, it is an automated solution where the owner decides who can access the cash and forgets about endless cash drawers.
Reimagine, modernize, and accelerate your applications with us!