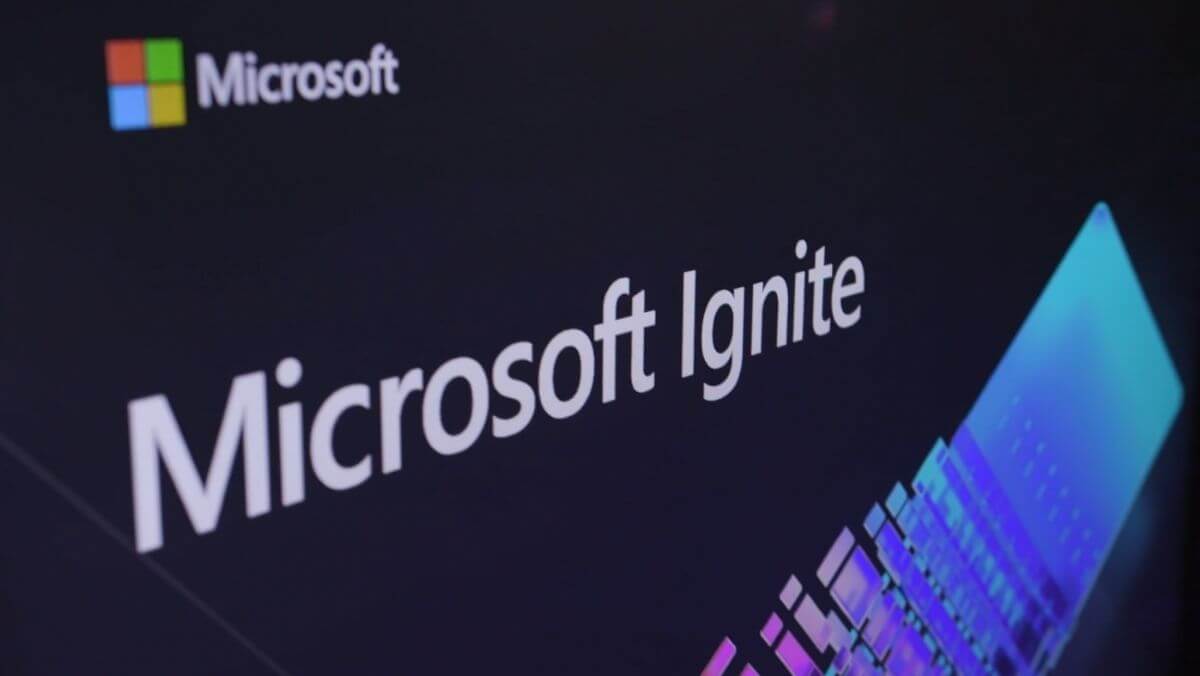 Microsoft Ignite 2021 | All The Highlights
Microsoft Ignite, the most important technology innovation event of the year, is just around the corner and we have all the details of how it is going to be. This 2021 edition will be full of news and surprises, and if you do not want to miss anything, keep reading because we tell you all the secrets.  
*We'll be updating this post when new information is being released to provide more details. Keep on checking this again!
When and where Microsoft Ignite 2021 is held
Microsoft Ignite 2021 is now dated and will be from 2 to 4 March in an event full of surprises. The 3-day meeting will be online due to the limitations stemming from the pandemic, but this is a big plus, because now the possibilities to attend are much greater. In addition, this edition of Ignite promises to be much more inclusive, as it is no longer only aimed at developers and IT professionals but is also aimed at anyone who is motivated to be at the frontier of innovation and technology. 
Despite being in digital format, the event will keep its eagerness to connect technology professionals and will do so through specific sessions called "Connection and learning zone", where attendees will be able to meet experts, connect with peers and learn new skills. In addition, there will be a question-and-answer session with experts, product roundtables, cloud skills challenge and custom queries. The previous edition was held in October 2020 and was also in online format, where they gathered almost 270,000 attendees, and it is expected that this edition can surpass those numbers.  
How to attend Microsoft Ignite?
This edition will be broadcast live from Redmond, Washington, worldwide.  
Registration is open and anyone who wants to register can participate in the event. 
In addition, once again we are an active part of this edition, and we anticipate that you will have the opportunity to, while watching the event, pilot a drone using your phone, patch servers around the world, play with sparks or change the weather dynamically in the studio. You choose which way to live the Ignite 2021!
There will be many more surprises, so synchronize your watch and enjoy the event.

Microsoft Ignite 2021 Sessions
This edition will be full of developments and innovative technology, especially in the field of Artificial Intelligence, with the AI at Scale initiative of Microsoft Research, and Augmented Reality. But they are not the only fields to deal with, as there will also be space for cybersecurity, Microsoft Edge, Microsoft Azure, Microsoft 365, Microsoft Teams and the PowerApps low-code/ no-code platform, among others.  Here is the summary of the highlights of each day:
Summary Microsoft Ignite
Microsoft Mesh
Microsoft's new mixed reality proposal was probably the most visually appealing one for those of us who followed the event. Even film director James Cameron, the video game company responsible for Pokemon Go, Niantic, and the co-founder of Cirque du Soleil witnessed what Mesh is capable of.
It is a system that combines holograms and augmented reality and promises to be the future of the virtual world. The collaborative platform that allows anyone to share virtual experiences on a variety of devices. The shocking fact was explained by one of the project leaders, Alex Kipman (lead developer of the Microsoft Hololens and Xbox Kinect), who said that Microsoft Mesh will allow teleportation and be present with other people when they are not physically together.
For the moment, Mesh represents people as virtual avatars taken from the AltspaceVR social network, but in the future will admit "holoportation", which would allow people to appear as themselves within the virtual space. This, beyond science fiction applications and the like, will allow people to work and collaborate without having to look at the same screen.

Microsoft Teams Connect
It is clear that 2020 has marked a before and after in remote working tools and they have come to stay. That is why Teams has become one of the great achievements for Microsoft and many new developments are coming. One of them is Microsoft Teams Connect, which will be available later this year and will help organizations collaborate more seamlessly with customers, partners, vendors or other parties through shared channels.
The platform leverages Teams' capabilities and maintains control over how users access data. With shared channels it will be possible to create a single channel where you can add members from your organization or other organizations. You will no longer have to change users to collaborate, as it will appear in the main channel together with the usual teams. This will make collaboration between members of different organizations much easier and managers will have control over external users.
Microsoft Teams Virtual Events
Since the need to transform face-to-face events into a digital format became crucial, the capabilities of virtual events have been implemented and are now aimed at mass events. The efforts are aimed at creating an online event that reminds as much as possible to one in person, so they are going to include functionalities such as opening the microphone, using surveys, disabling the video of the attendees, chatting, Presenter mode, dynamic views and use of whiteboard with external elements. Another new feature is live feedback and the ability to add apps to increase interactivity, as well as allowing attendees to ask live questions.
One of the options will be "view-only attendees", which allow meetings to be extended to 10,000 attendees. They will not have such an interactive experience, but it will allow the broadcasting of meetings and events with a very large audience. For their part, the seminars allow the organizer to add a registration page, which will allow attendees to add the meeting to their calendar. In addition, customers will be able to offer webinars as part of Dynamics 365 Marketing campaigns and export contacts directly from Teams.
Until now, presenters had to share their desks, but now includes the option of PowerPoint Live in Teams, which will offer a more complete and inclusive experience for both parties. Attendees will be able to customize their experience and navigate the content at their own pace. In addition, with the Presenter Mode you can further customize the way you broadcast with new options: featured, reporter or side-by-side. Also included is the dynamic view to intelligently organize the meeting elements for an optimal presentation.

Microsoft Whiteboard
Microsoft Whiteboard is a great tool for collaboration in Microsoft Teams and some of its novelties is the possibility of using Whiteboard in Teams meetings with external participants. Additional content types (forms and diagrams) will also be implemented soon, and you can block content, add attribution tag or add additional facilitation features.
Microsoft Viva
It is the first platform of worker experience that brings together tools for employee learning, commitment, well-being and discovery of knowledge. To be divided into three 4 modules:
Viva Connections: It focuses on presenting a company's brand image to its employees. They will receive personalized information on the devices they use daily.
Viva Learning: The app creates a learning centre where people can share, assign and learn from business content libraries to make training much more natural day-to-day.
Viva Insights: Its role is to include new functions to improve personal well-being, such as the virtual travel experience already presented in the latest edition of Ignite 2020.
Viva Topics: Automatically organizes the content and experience of the entire company, making it easier for people to find the information they need and put that knowledge into practice.
Cloud for new industries
Microsoft has been revealing new cloud releases and updates for different industries in Dynamics 365 Commerce. It now launches Cloud for financial services, NGOs and manufacturing. In addition, it updates Cloud for Healthcare, offering new features, with a focus on virtual health optimization, patient self-service and collaborative care.
Designed with industry challenges in mind, these clouds can enable organizations to move forward and deliver value at a record pace. This is because they provide a gateway to Microsoft's broader portfolio of cloud services, allowing customers to start with areas where the need for technology transformation is most urgent.
OneDrive Darkmode
Microsoft also released its roadmap for the OneDrive service and the first feature to highlight is the introduction of the «dark mode» on the web. This seeks a more inclusive design in which many more options and flexibility are given, both for business and personal accounts. In addition to the attractive design, it also reduces visual fatigue and improves the battery life of devices.

In addition, now when sharing Word files, the email invitation will include some additional details related to the document such as the summary of important points or estimated reading time.
Zero Trust World
If one thing has been shown by the great advances in digitalisation, it has been the essentiality of network security. That is why Microsoft has announced several innovations in 4 key areas: Identity, Security, Compliance and Skills, with the aim of addressing current security demands.
Referring to the first, they have added new features in Azure Active Directory, the new cloud identity solution, which includes solid authentication (by biometric data and not password), protection of credentials, user and devices. In terms of security, Microsoft has announced new features such as Microsoft Defender, which will be able to investigate and remedy threats, providing alerts and a learning center for customers. Added to this are Azure Sentinel and Threat Analytics, which will provide reports from security experts.
In the compliance section, has announced new features such as the ability to work on protected documents simultaneously or to identify a potential internal risk activity within an organization and help inform policy settings through Microsoft 365 Insider Risk Management Analytics. Finally, in skills, they will focus on providing companies with learning resources to keep up with cybersecurity attacks.

Dynamics 365
Microsoft will release a public preview of Dynamics 365 Intelligent Order Management, a new SaaS offering, configurable, rules-based and with Artificial Intelligence, designed to help retailers and consumer goods companies realize the omnichannel vision of buying anywhere with an easy experience and incorporation.
But these are not the only novelties, as Dynamics 365 Customer Service is also incorporated, where agents can collaborate with the expert and quickly solve customer problems. It will also include the human resources option, giving employees access to a self-service that will free HR staff and streamline processes.
Azure Data and Artificial Intelligence
Cloud services are critical to digital transformation and Microsoft's big commitment is Azure. Among this year's novelties, and those previously mentioned, is Azure Percept, which will help customers build and manage cutting-edge AI solutions. We also found Azure Synapse Pathway, which will accelerate workload migration to Microsoft's unlimited analytics service.
In addition, Azure Purview's options are expanded to help customers represent and analyze their data. There is also news regarding Azure Arc, the Machine Learning service for the hybrid cloud that is already in preview version. And we cannot forget about Azure Communication Services, which can now interact with Microsoft Teams.
Unmatched analytics
Azure Synapse Analytics is launched, an unlimited analytics service that brings together data integration, enterprise data storage and Big Data analytics all in one. This platform promises to enable data professionals to unlock valuable information for greater business agility. To simplify the migration to service, they have developed Azure Synapse Pathway, which with just a few clicks allows customers to scan all their old information and automatically translate it to the new system in just a few minutes.
Comprehensive data governance
Azure Purview, a unified data governance service, has been introduced, allowing clients to scan Azure Synapse workspaces in dedicated SQL groups. They will be able to break down operational silos more efficiently, with the ability to discover data in a narrative way. Scanning and sorting will be automatic, and can be done from different platforms where the data resides.
Faster apps
It will now be easier to bring hybrid capabilities and cloud scale to customer deployments through Azure Managed Instance for Apache Cassandra. They'll be able to take on-premises workloads and add an unlimited cloud scale while maintaining compatibility with the latest version, achieving better performance and availability while maintaining Azure security and compliance.
Developers will also be able to leverage multi-document and writable transactions with Azure Cosmos DB. It also offers additional enterprise-grade upgrades, such as new access controls that enhance security and continuous backup with restoration. Another new feature is Azure Cache for Redis Enterprise, which was born to meet the growing traffic demands in applications. It is generally available and supports larger cache sizes and Redis 6.0 support.
AI driven search
Azure Cognitive Search, a cloud search service with built-in AI capabilities that enrich information to easily identify and explore relevant content at scale, has also been launched. A completely new level is achieved, where semantic search capabilities driven by AI reach an unprecedented relevance.
Experience of improved migration
With Azure Migrate, it's easier than ever to migrate to Azure SQL with tools to discover, evaluate, and migrate cloud workloads in just a few clicks. It is now much easier to understand all the technical and financial aspects of the cloud, evaluating SQL source and target landscapes at scale, with integrated SKU recommendations and cost estimates.
Power Platform
This new edition of Ignite has launched new Artificial Intelligence (AI) capabilities within Power Virtual Agents to allow experts in the field to create smarter chatbots. These will be able to engage more naturally and accurately and are designed to help organizations and developers feel more secure when addressing the needs of customers and employees with chatbots at scale.
In addition, new AI capabilities such as equipment automation are included thanks to new Power Automate templates, Sharing Dataverse applications, improved governance and security implementation for automation and low-code tools… On the other hand, we found Microsoft Power Automate Desktop, which offers robotic process automation (RPA) capabilities that easily automate time-consuming manual work.
They have also released new features for Power BI Premium, which provides unified self-service analytics and enterprise BI for each user and organization. This allows business data analysts and users to create and analyze business intelligence reports. Finally, Power Fx, an open-source computer language for customization on the Power Platform, will be available on GitHub.
Windows Server 2022
Microsoft has announced that Window Server 2022 is now available at the preview stage. It features three improvements with respect to security, portal integration and Windows container compatibility in Kubernetes. The size of the container image of the latter has been reduced, which translates into improved performance and loading speed. In addition, new enhancements have been included such as the ability to run applications that rely on Azure Active Directory, establish policies with Calico in hybrid clusters, and a simpler Kubernetes configuration.
However, the big news is the addition of secure kernel protection, which adds firmware-level security protection when using qualified hardware. The approach is based on virtualization with a design to ensure that the operating system has not been compromised by so-called «rootkits» or «bootkits», or corrupted by contaminated drivers.
On the other hand, administration and migration solutions are also part of the new features of Windows Server 2022. Azure Arc and Storage Migration Service are two key hybrid capabilities that work best with Windows Server 2022. The first is Microsoft's multi-cloud management tool, and the second is the storage migration service that allows seamless connectivity from local file servers to Azure servers, as well as low-latency migrations.
"Envisioning Tomorrow" Keynote
*Bonus track: We warn you that there are amazing demos, opportunities to fly a drone and the possibility to win a special edition jacket in the most aviator style of Microsoft IA. Too much information?
If you've made it this far, it's because you want to know everything about the event.  The Ignite 2021 has come loaded with innovation and great technological advances, but it has also had moments for fun. That's why we recommend you not to miss the Keynote "Envisioning Tomorrow". Mitra Azizirad has been in charge of the welcoming speech and we promise that she will not leave you indifferent. We can't tell you anymore, but we give you 5 reasons to sign up right now: 
You'll

learn how Microsoft approaches innovation for the future. Explore the advances being developed with AI systems or how biotechnology will 

revolutionise

 healthcare as we know it

. 

 

You'll

hear testimonials from researchers and 

clients

 about breakthrough innovations and how they're making them real. 

 

It's

not all words, and there's no better way to show you what it takes to bring innovation to life. 

Don't

 forget something to take notes!

 

However, showing it to you is not enough, better to participate and interact with them, right? You

will be able to

fly a drone, challenge an AI model or even change the weather around Mitra 

Azizirad

.

 

The best thing to remember an event is to have the perfect complement so you can show off your participation in the Ignite as it should.

That's

why you can win a special edition Microsoft AI flight jacket. 

Could you imagine it?

 
 Too much hype? Sure it is! We will be following the whole event on our networks, so if you don't want to miss anything and discover more surprises, follow us on our Twitter account
Microsoft Ignite Agenda
March 2
5:00 PM – 5:30 PM Microsoft Ignite pre-show – get a preview of what to expect during the event.
5:30 PM – 8:30 PM Day 1 Keynotes – featuring Satya Nadella, Alex Kipman, Jared Spataro, Vasu Jakkal and Mitra Azizirad.
7:30 PM – 7:45 PM The Studio – your hosts offer insights, highlights, interviews, and more.
8:00 PM – 2:30 AM Featured Sessions – dive deeper into news, announcements, and product features.
8:00 PM – 2:30 AM Connection Zone and Learning Zone – your chance to meet experts, connect with peers, and learn new skills.
March 3
2:30 AM – 3:00 AM Microsoft Ignite Day 1 Pre-show returns. Get a preview of what to expect.
3:00 AM – 6:00 AM Day 1 Keynotes – featuring Satya Nadella, Alex Kipman, Jared Spataro, Vasu Jakkal and Mitra Azizirad.
5:00 AM – 5:30 AM The Studio – your hosts offer insights, highlights, interviews, and more.
5:30 AM – 12:00 PM Featured Sessions – dive deeper into news, announcements, and product features.
5:30 AM – 12:00 PM Connection Zone and Learning Zone – connect with experts, participate in the Cloud Skills Challenge, and complete a workshop.
12:00 PM – 12:15 PM The Studio – wrapping up Day 1 and learning what to expect from Day 2.
5:00 PM – 5:30 PM Microsoft Ignite Day 2 Pre-show – welcome back! Your hosts share highlights from Day 1 and a preview of what's to come.
5:30 PM – 7:30 PM Day 2 Keynotes – featuring Scott Guthrie, Judson Althoff, and special guests.
7:30 PM – 8:00 PM The Studio – your hosts offer insights, highlights, interviews, and more.
8:00 PM – 2:30 AM Featured Sessions – dive deeper into news, announcements, and product features.
8:00 PM – 2:30 AM Connection Zone and Learning Zone – your chance to meet experts, connect with peers, and learn new skills.
March 4
2:30 AM – 3:00 AM Microsoft Ignite Day 2 Pre-show returns. Get a preview of what to expect.
3:00 AM – 5:00 AM Keynotes – featuring Scott Guthrie, Judson Althoff, and special guests.
5:00 AM – 5:30 AM The Studio – your hosts offer insights, highlights, interviews, and more.
5:30 AM – 12:00 PM Featured Sessions – dive deeper into news, announcements, and product features.
5:30 AM – 12:00 PM Connection Zone and Learning Zone – ask the experts, participate in the Cloud Skills Challenge, and complete a workshop.
12:00 PM – 12:15 PM Microsoft Ignite Day 2 Closing Show – a final recap of the event and special moments with your hosts.
We will be updating this post with all the news of the event. Keep track of us!